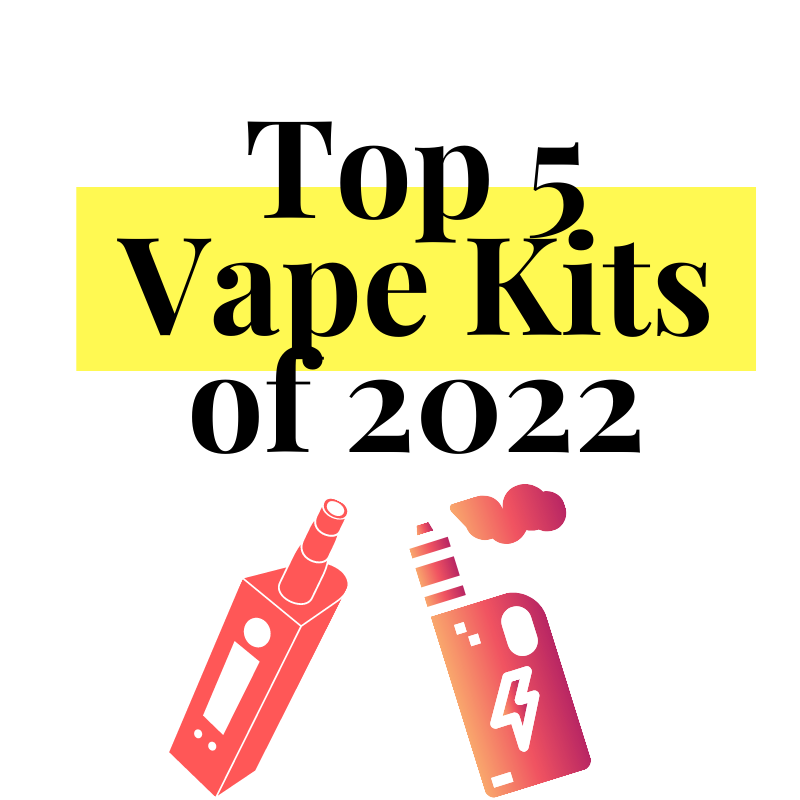 Top 5 Vape Kits of 2022
Back in the day when we first started vaping in 2010, there really weren't many options to choose from. Fast forward 12 years, and here we are. The UK has become one of the biggest Vape Markets in the world and now the opposite is almost true – there are so many devices and kits available that it's hard to wade your way through the endless range of options!
Not to worry though, thats why you have us. We at UK Vape World will give you the best advice as to which vape would be best suited to you. Being one of the industry leaders since 2018, we do have a bit of an experience in this area.
Before we begin, you need to know whether you still want to stick to the basics of
Starter Vaping Kits or Beginner E-cigs
, which is totally fine. Or would you like to reach for the stars and explore the advanced vaping arena, which could hurt your wallet a little more but would be guaranteed to meet your every need.
The
best vape kit for a new vape
r will be a very different beast from the best vape kit for an experienced vaper who takes part in cloud-chasing competitions!
Contents:
How we selected the kits
Best starter kit
Best pod mod kit
Best mod kit
Best Disposable Vape Kit
Best All Rounder (Winner)!
How we selected these kits
I know, I know. Anytime you see a post like this it's always filled to the brim with the latest, shiny devices, claiming to be the greatest ever.

However, we don't want to fall into the trap of buying the newest model or the most expensive model as it does not mean an e cigarette is great.

We know this better than anyone that despite these new kits having better technology there are much older vape kits that have withstood the test of time – and they've done so for a good reason.

The Smok X Priv Kit is the best example of this, from our personal experience. Even though it's been around for several years now, it retains huge popularity and still is one of our best sellers. It's unfortunate that Smok has discontinued making this particular kit though but it really is pretty much unmatched by any other more advanced vape kit we've experienced.
So to select the most amazing kits for you we have used a combination of our own ratings, the popularity of these devices, both in terms of sales and 'on the road', as well as taking into account customer feedback. We have also added the best Disposable Vape to the end of this list, and our choice will likely shock you. So be sure to read till the end!
All the kits here are made to UK standards and are compliant with EU and UK regulations.
Let's get started!
The Best starter kit of 2022
Winner:
Vaporesso Swag Kit
I mean this should not come as a shock to anyone, this really is a classic no-fuss beginner device. Compact and easy-to-use features make it a perfect fit for new vapers and anyone looking for a new device that requires little to no set-up or maintenance.
The tank and coil system works magically in cooperation with the many features and customizable vaping options on the Swag. Probably the most fun aspect of this unit is its aesthetics. The artwork stickers purchased for this unit are cool enough to be framed and put on a wall. In addition to this awesome look, this unit is also incredibly powerful. Consumers can get the best of both worlds from the Vaporesso Swag Kit– looks and performance.
Kit comes in 6 Amazing Colours: Matte Black, Blue, Red, Silver, Orange, Green
What's to like about it?
High wattage
Awesome aesthetic
Ease of use
Great value
What's not to like about it?
Some other similar vapes can reach higher wattages
The Best Pod Mod Kit
Winner: Voopoo Drag S & Voopoo Drag X devices
Let's start with aesthetics: both these kits are stunning! I received the Mashup and Retro editions 10/10 for that. The Drag S comes with a built in 2500 mAh battery and can produce up to 60W of power.
Meanwhile, the Drag X, which can pump out up to 80W, is powered by a single 18650 battery (not included) which makes it great for vapers who like to swap out the battery when it runs out of power instead of attaching the device to a USB-C cable.
What's to like about it?
Stunning aesthetics
Plenty of power
Anti-scratch, antiperspirant and anti-fingerprint
What's not to like about it?
Scoring feature doesn't seem useful (and takes up half of the screen)
DRAG X resets the time when you swap batteries
Mouthpiece may get hot at times
Weak draw sensor (DRAG S)
Moving On
The Best Mod Kit of 2022
Winner: Voopoo Drag 3 Vape Kit
Voopoo have really made a name for them recently, I think they will be really happy with themselves after this article, must be a big win for them to appear twice in our small list.
Apart from the excellent Gene chip that made them two of the fastest firing vape mods – and certainly the fastest budget mods – on the market, the two previous VooPoo Drag mods also impressed with their eye-catching design and above average build quality. The latest addition to the Drag family is no different.
What's to like about it?
classy, eye-catching design
Alcantara-like leatherette
lightweight and compact
solid build quality
Gene Fan chip
What's not to like about it?
barebones features menu
automatic turn-off function
The Best Disposable Vape Kit Of 2022
Winner: Elf Bar Disposable Vape Kit
This may come as a surprise to many of you Geek Bar enthusiasts but this particular disposable vaping device surpasses the og in many ways!
The ELF Bar 600 disposable pod is a nifty, lightweight and beautifully designed pod system that takes convenience vaping to a whole new level.
With a beautifully slim and thin mouthpiece that's ultra comfortable, a decent sized battery and a 5% nicotine strength, the ELF Bar 600 is guaranteed to give you a long-lasting vaping experience that won't die on you when you need it the most.
We love the smooth matte finish on the body of the pod that hides fingerprints well and makes it look clean all the time. It comes in a vacuum sealed packaging to help maintain freshness. Perfect Vape For recent quitters!
What's to like about it?
Compact & portable
Good flavors
Nice throat hit
Good usage life-span
Problem & leak free
What's not to like about it?
LED is extremely bright
Peach Ice & Cool Mint could use tweaking
The Best All Round Vaping Device Of 2022 
Winner: Ageis Legend Vape Kit
Some of you may be a little surprised but thats okay, its true. The Aegis Legend is officially the best of 2022. 
Producing a massive cloud the The Aegis Legend by Geekvape is great mod all around. You get the Aegis Legend mod, which is IP67 waterproof and nearly indestructible, as well as the Geekvape Aero Mesh sub ohm tank.
Powered by dual 18650 vape batteries (sold separately) this powerful mod can be used primarily for Direct To Lung vaping, but also supports Mouth To Lung vaping too. Fitted with a 510 connection, this vape mod can be paired with the majority of tanks and rebuildable atomisers.
What's to like about it?
Good build quality

Sturdy and durable to use

Clicky buttons with intuitive screen

Waterproof, dustproof and shockproof

Powerful wattage output

Rubber coating for comfortable grip
What's not to like about it?
The battery door is too tight
Because of its full set of features, great performance, and ease of use, the Aegis Legend is a top pick for the best vape mod kit in 2022.