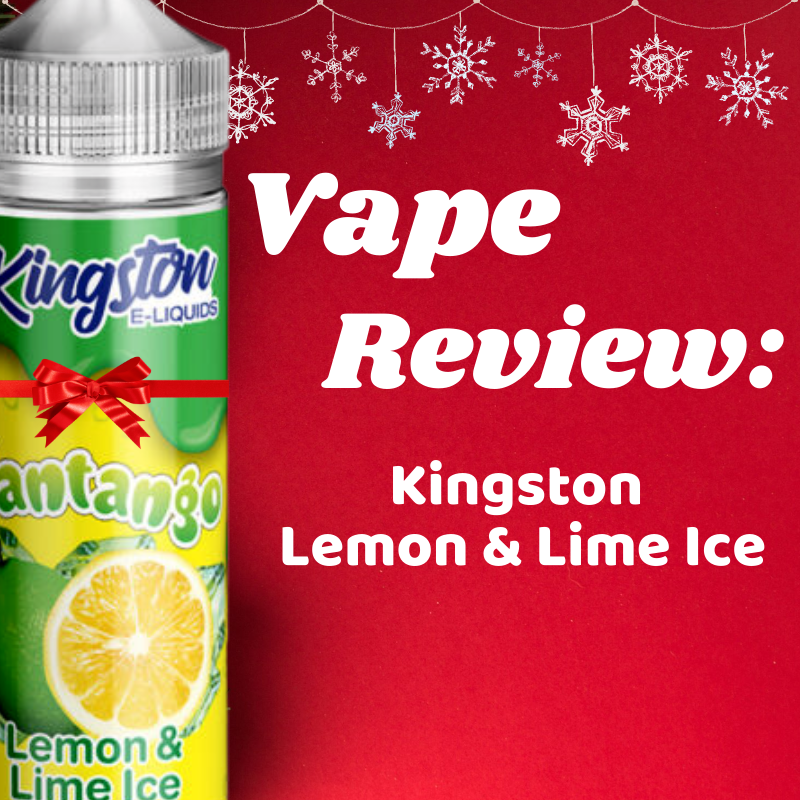 Review: Kingston Fantango Lemon & Lime ICE 100ml Shortfill
The Lemon and Lime by Kingston is tangy cocktail style vape juice with a lot of potential. It has an intriguing combination of sugared fresh lemon slices sandwiched between layers of cool menthol. It's without a doubt one of the greatest lemon-flavored e juices you'll ever try.
One of the pros of shortfill ejuices is the fact that you actually get to customize it and use just enough nicotine to keep your cravings at bay each and every time.
About The Manufacturer – Kingston
Kingston offer a fantastic range of premium affordable eliquids to the vaping community. Kingston are one of the UK's top e-liquid manufacturers. Taking the utmost care when it comes to creating and selecting flavours for their ranges, these e-liquids have remained popular since their introduction, from rich dessert blends to fruit medleys and menthol fusions. For sub ohm vaping, there are 70% VG blends in the form of 50 Large and 100 Large e-liquid shortfills. Their main goal is to provide vapers like you with a wide range of high-quality e juices that have been carefully created with you in mind. With this brand, there are no shortcuts; it's all straight down the tasty vape lane.
Flavour Description

The sweet and savor scent of this lime blend fills your nose as soon as you open the package. You get a burst of mouth-watering lemon taste when you inhale this e juice. After that, the smooth cool menthol flavor emerges to balance off the lime's sourness. All of this comes together to offer you a very exceptional vape. This vape juice has exactly the proper amount of citric flavor, not too overpowering but not too faint. A delicious combination that will make your taste buds swoon. It's a flavor you'll never get tired of.

VG/PG Ratio

Kingston Fantango Lemon & Lime Shortfill ejuice is made with a high proportion of vegetable glycerin, or VG for short. In this case, VG accounts for 70% of the total, with propylene glycol accounting for the remaining 30%. This Shortfill ejuice is perfect for sub-ohm vaping and usage in any comparable device due to its high VG content. It's thick enough to generate thick and full clouds of vapor with each draw because it's a high VG mix. It does not clog your coils as quickly as other vape juice, so you won't have to clean them as frequently. Its high-quality PG ratio is what gives it such a strong taste and a clean throat impact.
Nicotine Content

Short filling basically means you have total control over your nicotine and may add as much as you want to fulfill your needs. Despite the fact that the Lemon and lime Shortfill ejuice contains no nicotine, there is enough room in the bottle for you to add a nicotine shot. If you'd rather vape it straight up, simply load it into your vape device and vape away.
Final Word
Lemon Lime by Kingston Fantango, is everyone's favourite holiday drink ! Tangy Lemons and Juicy Limes with a fizzy twist, will keep you vaping all day with this fantastic refreshing flavoured vape. Refreshing citrus blast of sweet and tangy, followed by a smooth menthol finish.
Pricing and Availability
Kingston Fantango Lemon & Lime Shortfill ejuice comes in a 100ml shortfill bottle, but only contains 80ml of the delectable ejuice recipe. The leftover 20ml is left there on purpose so you may add upto 2x10ml nicotine shot. It's easy to fill the bottle into your vape device because it's built that way.
UK Vape World is selling it for £9.99 which is
the Best place to buy shortfill eliquid in uk
. The best thing is that Vape World provides free shipping to the United Kingdom on all orders over no minimum order value. If you place your purchase before 3 p.m., we will ship it the same day.