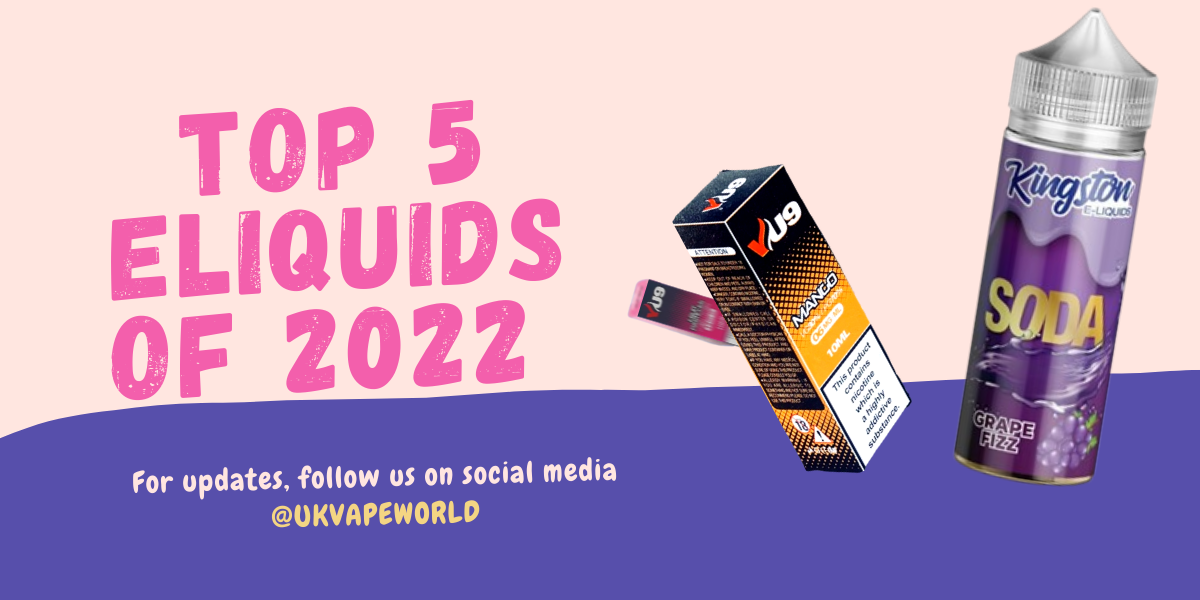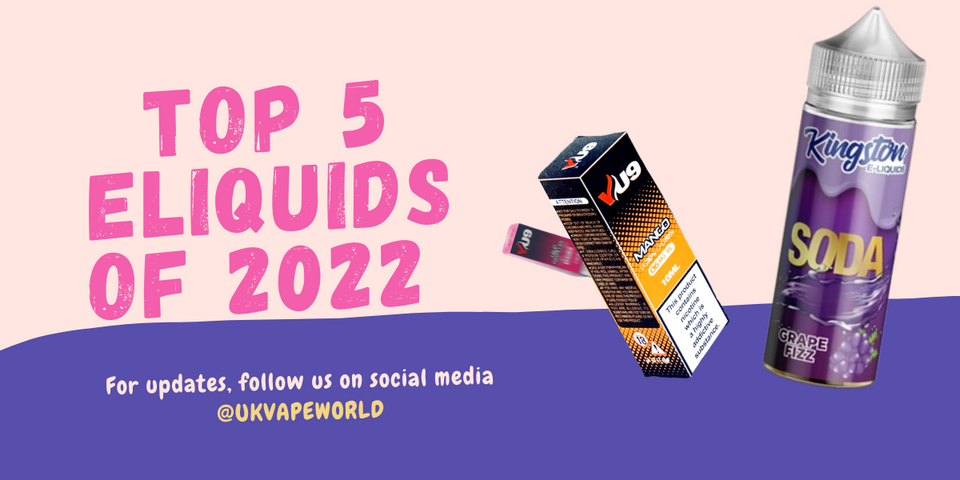 Top 5 E-Liquids & Disposable Flavours Of 2022 | Best E Juices
Before we begin, I would like to just say, how far the vaping industry has come in the last decade or so, as mentioned in my previous article Top 5 Vape Kits Of 2022.
I mean this sort of list literally couldn't exist back in 2010.
Mainly because there would literally be only five options to choose from.

Nowadays with many thousands of e-juices available to modern-day vapers. It can be a real challenge to find what's right for you.

Our job is to save you time and money and give you the best advice as to which e juice would be best suited to you. Being one of the industry leaders since 2018, we do have a bit of experience in this area.

First of all, you need to know whether you still want to stick to the basics, Flavour Chasing which is totally fine. Or would you like to explore the vaping arena a little more with Cloud Chasing E-liquids, which could hurt your wallet a little more. And also maybe your throat. Or go for the 50/50 option and get the best of both worlds.

The best e juice will vary from person to person. We all have different taste buds you know. So we tried to create this list for all of our vape enthusiasts.

Contents:
How Did We Select These eJuices?
Best Cloud Chasing Eliquid
Best Flavour Chasing Eliquid
Best 50/50 Vape Juice
Best Editors Choice (We wanted to throw our hat in there too)
Best Reviewed Disposable Vape Flavour Of 2021

How Did We Select These eJuices?
There are dozens of ways you could put together a list of the best eliquids and ejuices.

You could look to classics, list based on flavour alone. You could look to more varied VG/PG PG (Vegetable Glycerin, Propylene Glycol) Ranges if you want it to be based on a stronger hit or bigger clouds.

You could write down your personal favorites on pieces of paper, then throw them into the air. Where the pieces land? That's your list!

But what we've got here is something slightly more scientific I guess. We went through and through the web to find your reviews.

We compiled the list from Customer reviews aggregation sites as well as looking through the great forums of Planet of the Vapes, then it averaged those scores into an overall average. What you'll find below is the top 5 highest-rated eliquids of all time, based on the averages obtained by us collecting data from various sites.
In simple terms, we did a bit of googling. To save you time of course.
But Again, no list is perfect. So if you have any amazing liquids we missed out on, why not enlighten us below in the comments section!
Best Cloud Chasing E-Liquid Of 2022
This amazing British-born 'coil sauce' has been developed specifically for sub-ohm vaping with their high VG 'coil sauce' vape juices.

The Double Drip Mango Tropic E-liquid is a fresh blend of tropical juicy mango. Bright, sunny mango, fresh, juicy pineapple, and exotic, tangy papaya greet your senses on the inhale followed by the smooth, rich creaminess of banana and coconut on the exhale.

The range goes up to 80% VG blends in dessert, candy, and fruity flavours for creating big, satisfyingly sweet clouds.
This is a shortfill which means you can add 10ml nicotine shot or a 10ml nicotine salt.
"Nice tangy flavour. A touch of peppermint added goes well with it too. Fantastic price." - According to William From South London
Best Tasting E-Liquid Of 2022
VG:PG 70:30
Kingston Cherry Chill is a refreshing blend of sweet cherries with a breeze of menthol throughout. With A Savoury sweet cherry taste, this truly leaves you wanting more time after time.

Delightful for flavour chasers and new vapers alike. Made for a refreshing vape at any time.

"The Cherry Chill fairly has a strong flavour and when you release the coldness isn't too overpowering, the mixture is evenly balanced" - According to Kristian M
Best Flavoured Vape Juice Editors Choice Of 2022
VG:PG 70:30
Fruit Pastles by VU9 Is the Chewy Sweet Flavour Of Orange, Strawberry, Blackcurrant & Lemon.

The Fruit Pastilles Will Delight Your Tastebuds With Its Irresistible Taste.
Discover The Sweet Flavour Profile Of This Delicious Vape Juice.

Using blackcurrant, orange, lime, lemon, and strawberry, this vape will have you feeling the glee feeling when you unwrap a pack of these classic candies.
A softer flavour profile which comes recommended for all confectionary vapers.
"Tastes just like fruit pastilles in a vape! Really nice and great value, can vape this all day" - According to David from Reading 
Best 50/50 Eliquid Of 2022
Dinner Lady 10ml Lemon Tart
VG:PG 50:50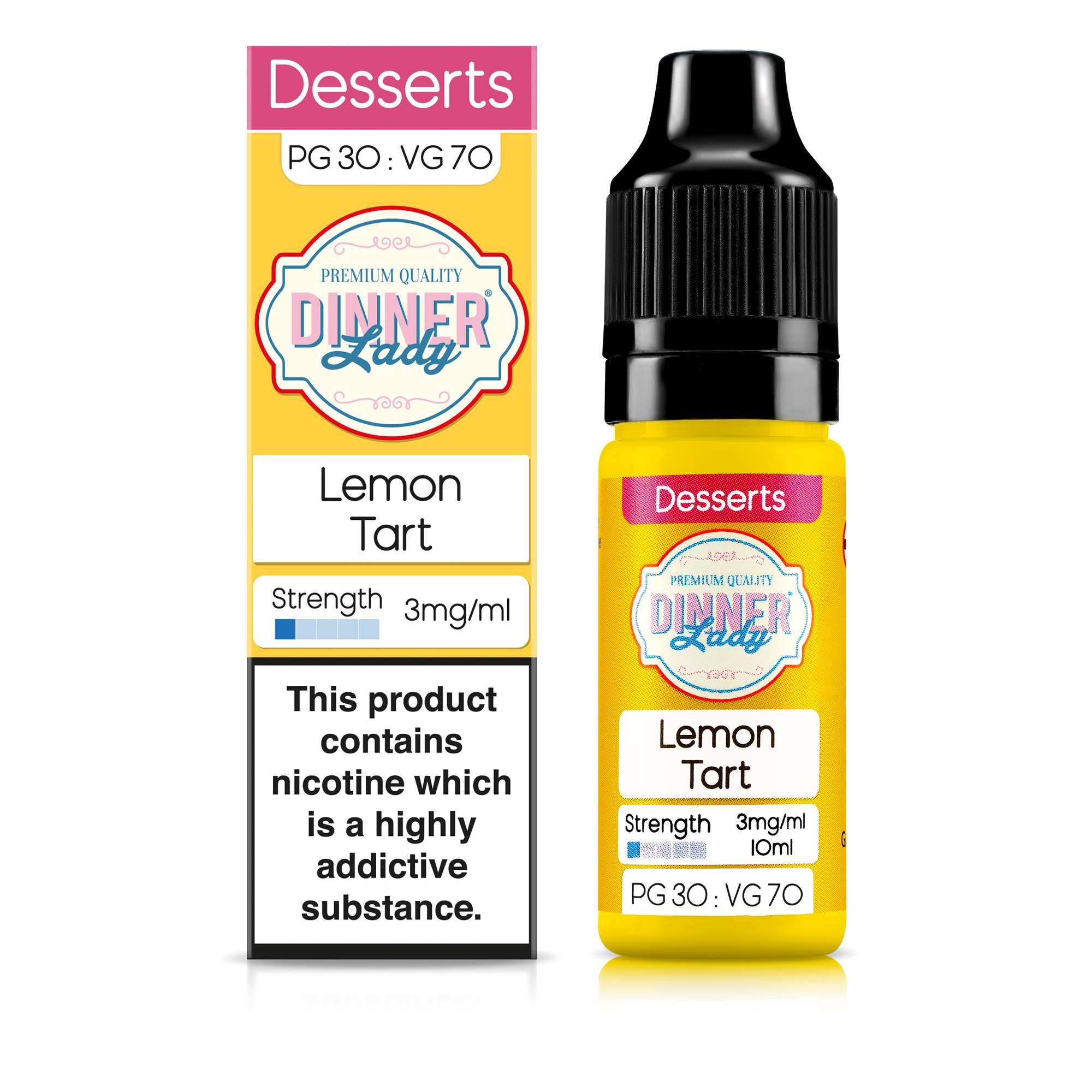 Another Brit brand on this list. Go Team GB! 
Her story began in 2016, when Dinner Lady introduced Lemon Tart e-liquid to the world. Initially available in 30:70 Shortfill, Lemon Tart quickly gained popularity and became one of the world's most iconic vaping flavours.
Lemon Tart 50VG/50PG with an option 10mg/20mg nicotine in 10ml bottle. On inhale, the buttery notes of pastry with a sweet yet bitter meringue treat, followed by a sweet, citrus-laced lemon curd for an authentic vape. A firm favourite of those sweet lovers.

You can also find Desserts, Fruits, Ice, Menthol, Sweets, and Tobacco flavours here which are also popular and everyone can find one best suits them

"Never knew I was into lemon until I received this as a free sample with another order, it has inspired me to buy more lemon juices. You get a lovely citrus hit coupled with biscuit and pastry overtones. Dinner lady make old school classic juices, and this one is right up there with the best of them." - Says Alex from Macclesfield
Best Disposable Vape Flavour Of 2022 
Mr Blue by Elux MINI
Elux has Officially taken over as the new King of Disposable Vaping Bars in the UK, with its massively popular Elux Legend MINI Edition Disposable Pod Device.

They owe the Majority of their success however to one flavour in particular. MR BLUE.

A unique amalgamation of ravishing raspberry, brilliant Blueberry, and luscious blackberry, with a slight overlay of ice.

"Mr blue is a banging flavour!!! 😍😍😍😍" Says Fabrizio Turco

That's all they have to say!

And That's all we have to say, folks.